Conferences :: IACP Fall Conference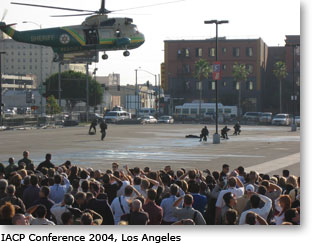 View a slide show of Executive Director Doyle King's photographs from the IACP Conference, Miami, 2005.
The 2014 IACP Fall Conference will be in Orlando, Florida October 25-28. As in past years, KACP has secured a block of rooms to allow Kansas delegates to stay as a group. The official KACP hotel for the IACP Conference this year has not yet been assigned. It will be announced and posted soon.
If you are a member of Kansas law enforcement and are considering attending this year's IACP Conference and would like more information on these housing arrangements, please contact KACP Director Doyle King promptly at 316-733-7300 or kacp@cox.net.
For additional conference related information, visit www.theiacpconference.org/iacp2014.